Strengthening Local Governance
Marginalised communities in rural areas which have long relied on traditional governance structures are struggling to address unforeseen threats relating to livelihoods, natural resources, village security, etc. Participation of traditional leaders in decision-making processes has gone down significantly. PHIA Foundation, with the support of Azim Premji foundation, initiated a programme in 2017 to deepen democracy and strengthen local self-governance in Chainpur Block, Gumla District; Manoharpur, West Singhbhum District and Fatehpur, Jamtara District of Jharkhand.
The programme aims to ensure equality, inclusion and holistic development of the vulnerable and marginalised groups in decision making by ensuring their participation within the ambit of traditional governance system, PESA provisions and provision of 5th schedule areas. The project provides a framework of good governance, collectivisation of community efforts, community empowerment and effective access to rights and entitlements for the communities with a focus on capacitating and empowering the Gram Sabhas with reference to PESA and other legislations.
Now, in its fourth year of implementation, the programme has adapted to the needs of the current times. Since the usual course of action was disturbed due to COVID-19 in 2020 and the situation was not conducive to continuing with the regular programme activities, the priority of the programme has shifted to strengthening community-based response to contain the spread of COVID. The project leveraged and built upon its past work to have a focused intervention on health – capitalising on the community institutions and local democracy initiatives carried out in the previous years.
Vision
To strengthen self-governance around the traditional governance system under the constitutional provisions within the 5th schedule areas
Key Objectives
Institutionalisation of Gram Sabhas
Acceptance of traditional leadership & governance
Enhanced knowledge and understanding of the team on local self-governance and project management and monitoring.
Gram Sabha becomes the right forum for raising community voices and concerns
Community continued to strive forward with their on-going regular engagement on MGNREGA & Social Security Schemes
VDP process as per the demand of community in selected revenue villages revamped the capacity and awareness level of the community
Gram Sabhas themselves took several positive actions & decisions to mitigate the crisis situation like mandatory vaccination, compulsory quarantine & testing of people from outside the village, no gathering of people and community-based health surveillance
Gram Sabha led campaigns for social security entitlements and work demand under MGNREGA
Measurable outcomes
4936 new cards for needy household under MGNREGA
4164 MGNREGA job card renewed
Work demand from 8704 job cardholders raised
Work demand from 12551 job cardholders raised
129 Gram Sabha-led entitlement drives for linking vulnerable individuals/families with social security schemes at village level
89 Gram Sabha led work demand campaigns drives
Gram Sabha Parishad (Federation of Gram Sabhas) established in 4 Gram Panchayats
Pre-Election Voters Awareness Camps in 32 Gram Panchayats
Community-driven COVID-safety practices followed by 262 villages
Dry ration distributed to 2583 most-vulnerable families during lockdown.
3483 needy families provided non-food essential items (sanitary napkins, toilet items, phenyl, etc.)
Safety hygiene kits given to 1613 frontline health workers
More than 500 Community leaders supported the project team in COVID response work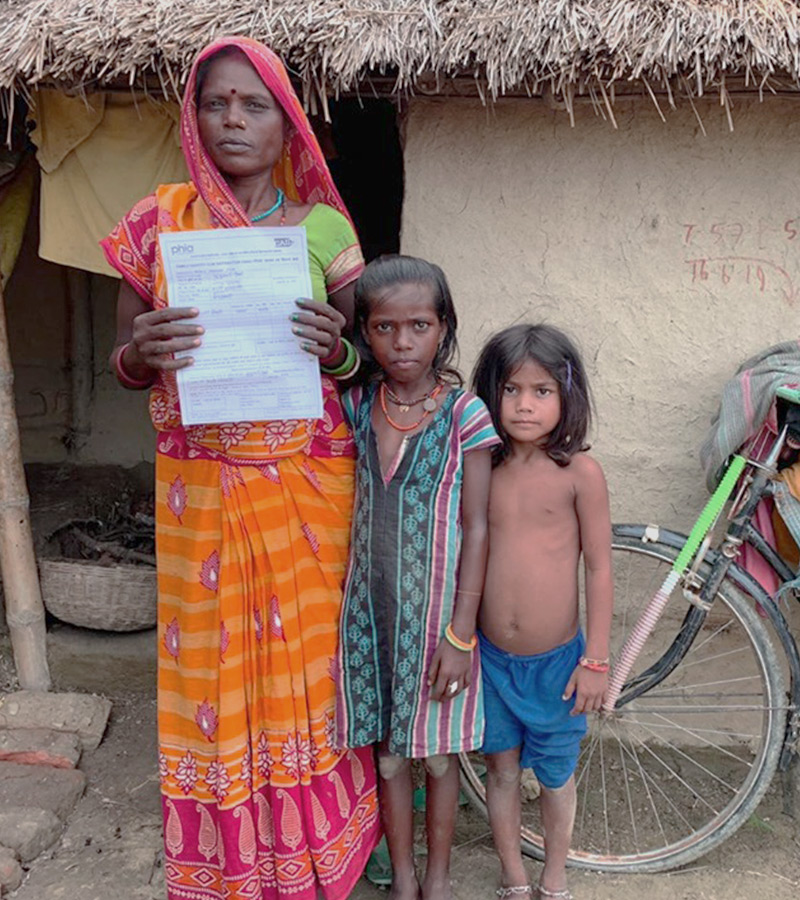 Rongo Village in Manoharpur block, with a population of ~800, had no roads for decades. The village used to depend upon kachcha roads on hills and mountains along the forest area to travel even for their basic necessities. Travelling out during monsoons was a nightmare as most of the village was cut-off due to water logging. No vehicle used to travel to Rongo. After the Gram Sabha was activated in 2018, the community realised the power vested upon the Gram Sabha and collectively wrote an application to Pradhan Mantri Gramin Sadak Yojana Unit. Action was taken and a 9.3 KM road was constructed. Construction of the road opened up a wide range of opportunities and convenience for residents of Rongo. With this positive result, the Gram Sabha members are planning other community level initiatives through the Gram Sabha.
Become a Volunteer
Join us in our endeavour for a lasting sustainable change.