PHIA's multi-pronged response to COVID-19
Delh-NCR, Bhopal, Jharkhand
As the COVID-19 pandemic wreaked havoc across continents, the toll and scale of human tragedy on lives and livelihood was unprecedented. With skyrocketing numbers, increasing by the thousands every day, this illness had shown the utter unpreparedness and vulnerability of healthcare systems across the globe. India was no exception, thousands affected and millions jobless, homeless and starved. COVID-19 was not just any humanitarian crisis, it was the ultimate litmus for human cooperation, solidarity and compassion. With PHIA's long term commitment of inclusive and non-discriminatory access to rights and entitlements through partnerships, our response was defined by finding cohesive solutions together with the Government, Private Sector, Donor Agencies and CSO, in reaching out and providing relief to thousands of vulnerable and stranded migrants across the country during the preventive nationwide lockdown.
The COVID Response team adopted a multi-pronged approach to cater to all the requirements of the migrant labourers stranded across the country-
Building Solidarity with the State Government of Jharkhand to curb the effects of COVID PHIA Foundation in collaboration with the Department of Labour, Employment and Training, Government of Jharkhand established a COVID-19 Response Team to mitigate the effects of COVID- 19 on migrant labourers. Also known as the COVID 19 Migrant Labour Response Control Room, this team operated from the State Secretariat in Ranchi. The team was active round the clock to ensure a safety net of basic public goods for all the migrant workers from Jharkhand marooned across the country.
The COVID 19 Response Team adopted a three-pronged approach to cater to all the requirements of the migrant labourers from Jharkhand stranded across the country. The three elements of the approach were as follows:
Migrant Labour COVID 19 Helpline: Through a helpline aid launched on 27th March 2020, 200 volunteers came forward to register the issues of migrant labourers through phone calls on numbers circulated nationally through multiple mediums. When some individuals called on the helpline, the COVID response team recorded all their essential details, like their personal information, location, situation, grievances and provided all the help required to ensure that they are linked up with appropriate support and response systems. Through this Helpline managed by PHIA Foundation the Government has been able to identify and counsel more than one million people from Jharkhand stranded across the country.
The Jharkhand government also coordinated with the concerned state agencies (where these people were stranded) to assist them with basic supplies and health-related aid. For labourers stranded in other states, the Helpline assisted the State Government of Jharkhand to reach out to the state administration of other states and ensure that the necessary help reaches on time to the individuals stranded in those states. In addition to building networks with state administrations, PHIA had also been able to establish a network with 127 Civil Society Organisations across the country to ensure the facilitation of basic food and non-food essentials to the stranded migrants.
With facilitation, conceptualization and coordination of PHIA Foundation and in collaboration with IIIT-B (Bangalore), a cloud-based application was developed which is accessible over both web and mobile for the Help Desk operations. This application is being used to ensure proper management, assigning, monitoring and tracking of tasks, along with analysis of the data being collated.
Coordination Platform between Government of Jharkhand and CSOs: PHIA Foundation also initiated a state-level Government – CSO Coordination Platform. The aim was to bring together all relevant and active stakeholders who could collaborate effectively to respond to the emerging needs of the crisis. The platform helped in bridging the gap between on-ground needs and delivery by creating a transparent and collaborative space for agencies to come together and respond in a coordinated manner and avoid duplication.
Assisting the State Government in Direct Benefit Transfers (DBT): PHIA assisted the State Government to streamline the process of providing financial support to migrant labourers in critical need. Through the Mukhyamantri Suvidha App migrant workers were provided Rs.1000 each in their bank accounts through the Direct Benefits Transfer method. Around 3,06,786 individual applications had been received, out of which 2,63,013 applications had been approved and are being financially aided through the "Jharkhand Mukhyamantri Vishesh Sahayta Yojna".
Other than the COVID19 response control room, PHIA also coordinated with other agencies to expand its scope of response work
Established 120 Community Care Centers (CCC): PHIA Foundation, with support from State Government and local communities, established 120 Community Care Centers across 13 blocks in 6 districts. The Community Care Centres served a Three-fold purpose of :
•Surveillance identification of symptomatic and persons infected with COVID 19
•Isolation in the CCCs so that the individual is well taken care of during the isolation period
•Referral to nearby hospitals or health care support in case the symptoms do not improve.
Through the comprehensive partnership and collaboration between PHIA Foundation, the Government of Jharkhand and Local Communities, under this initiative:
PHIA Foundation, established set-up centres, informed consent from the district and block officials and developed standard operating procedure (SOP) for the management of centres.
Meanwhile, the state government of Jharkhand provided infrastructural support for testing of the inmates and vaccination as well as Medical support for the covid care centres.
The local communities also stepped up their support. The Gram Sabhas took ownership for setting up of Community Care Centers, and volunteers from the community were selected and trained to work in the centres. The Community members also took the responsibility for safety and security issues as well as maintaining the stock of items/equipment in the Community Care Centers. They also ensured community norms for Covid appropriate behaviour were followed.
Distribution of Food and Non-food Essentials for People in Distress: PHIA Foundation, with financial aid from Azim Premji Foundation and Azim Premji Philanthropic Initiative (APPI), distributed dry ration kits and non-food essentials to around 15,000 households in Ranchi city and three other districts through the partner organisations. An additional 1,489 PPE kits were distributed to frontline health workers to aid them in their fight against the pandemic.
Memorandum of Understanding (MoU) with Government of Jharkhand:
An MOU has also been signed between PHIA Foundation and Department of Labour on 18th May 2020 to collaboratively work on issues of migration, managing the central control room and setting up Migration Facilitation Center for the state.
With instability soaring everyday, PHIA Foundation believes in extending its support to the vulnerables beyond territorial boundaries. With our on-going work in Jharkhand, we have also coordinated and provided comprehensive dry ration kits to over 250 migrant and marginalized families in Delhi NCR and with new lockdown measures as we prepare for the uncertainty ahead, we thrive to provide for all those in need.
Memorandum of Understanding (Mou) was signed between the Labour department and Labour Net: An Memorandum of Understanding (Mou) was signed on 24th Sep 2020 between Department of Labour, Employment and Training, Government of Jharkhand and LabourNet Services India Private Limited to facilitate an institutionally effective coordination framework for livelihood and Job creation ensuring the welfare of migrant workers of Jharkhand as per the appropriate labour rights in presence of Shri R. N. Yadav, Labour Commissioner, Department of Labour, Employment and Training, Government of Jharkhand. LabourNet is India's leading social enterprise committed to enable sustainable livelihood for the disadvantaged population through its Work-force Transformation Model, which uses government funds, corporate CSR funds and corporate business revenues to brings multiple stakeholders together and create interventions related to Education, Employment and Entrepreneurship. The Purpose and Scope of the Agreement are between the parties for the smooth implementation of agreed activities for the welfare of migrant workers of Jharkhand to be employed through LabourNet. The selection of workers as per skill category and will be suitably assisted by the Responsible Migration Centre (RMC) led by PHIA Foundation in partnership with Change Alliance Pvt. Ltd and Policy and Development Advisory Group (PDAG) for strategic guidance and support.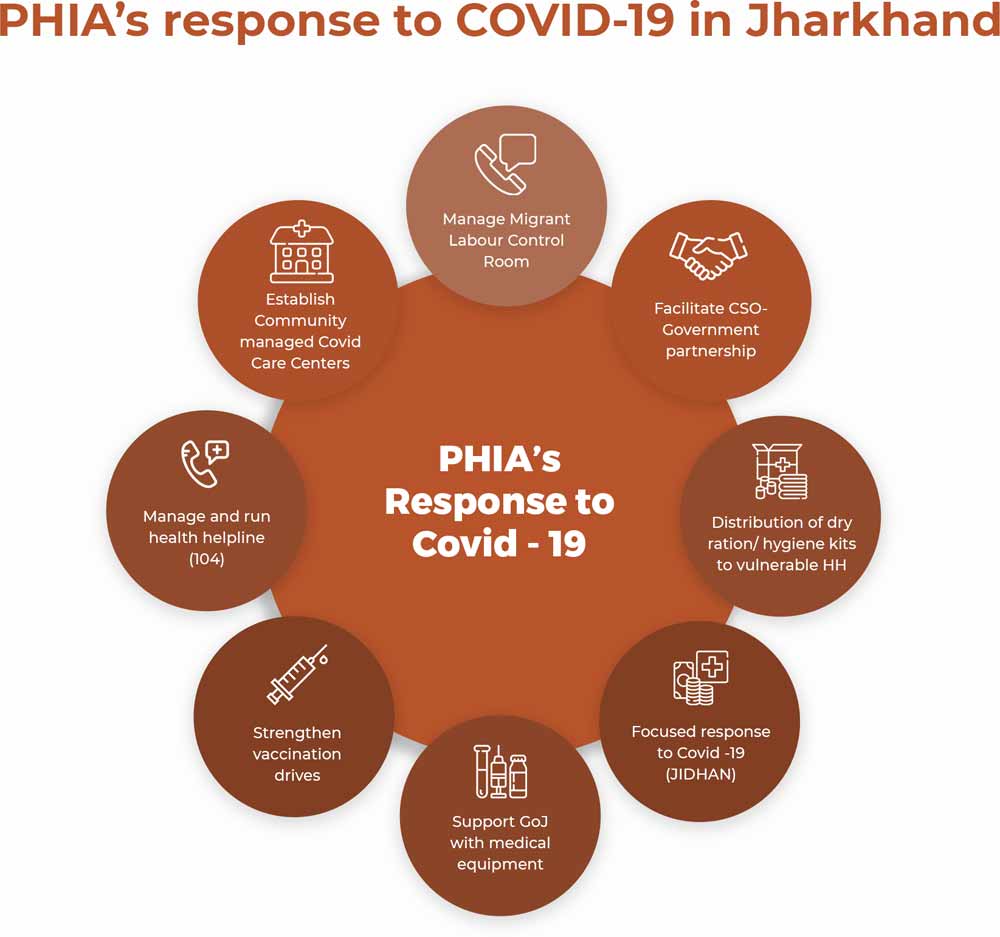 Project Beneficiaries –
(Period 27th March 2020-31st Dec 2021)
Received 9,08,965 calls
14,53,582 workers registered
Supported over 30,000 Household with dry ration / hygiene kits worth over INR 2.8 Cr
4,90,553/4,73,257 migrants counseled
7206 grievances on abuse, violation, death cases, etc., were addressed
The awareness generated amongst 26,994 workers
23,269 workers received a Labour Card
Mapped skills of 1,37,622 migrant workers
8,67,134/8,65,461 migrants returned to Jharkhand with the support of the SMCR
1,13,413 migrants mapped for reverse migration
Food/ration distributed to 27,050 workers
209 migrant workers linked with employment opportunities within the state
Facilitated release of INR 48,62,361 due payments of Migrant laborers
Become a Volunteer
Join us in our endeavour for a lasting sustainable change.